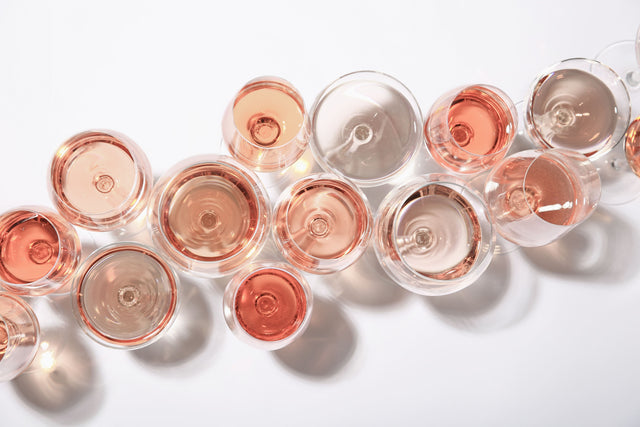 Rosé Wine
Rosé wine is refreshing and delicious, ideal for spring and summer. This type of wine is also incredibly versatile when it comes to food pairings. Here's everything you need to know.
Where Does Rosé Wine Come From?
While it is relatively new on the scene in America, Rosé wine has been a favorite of the French for centuries — especially in Rhone valley, Provence, and Languedoc, all of which are located in the south of France. The Loire valley, in central France, is also a massive Rosé producer.
In fact, Provence Rosé (Côtes de Provence) is one of the most coveted types of rosé; there's nothing like a gorgeous glass of French rosé!
This pale pink wine is also highly popular in Italy, where it is known as Rosato, and in Spain, where it is known as Rosado.
Here in the United States, the west coast tends to shine bright in the wine-making department; California, Oregon, and Washington are among the largest producers of rosé. Across the country in New York, Long Island is also known for producing some seriously delicious pink wines.
Rosé is neither red nor white wine; it is in a category all its own.
How is Rosé Made?
So, what's the process that goes into a bottle of rosé?
Believe it or not, the same red grapes used to make red wines are used to make rosé; the iconic pink color comes from using a different type of fermentation. Rather than fermenting in contact with grape skins for days or weeks, rosé's are fermented for just 12-24 hours.
Different methods are used all over the world; an Italian rosé is typically made differently than a California rosé that comes from Napa Valley or Sonoma county.
Is Rosé a Sweet or Dry Wine?
While there is a common misconception that all rosés are sweet, this is not true! Rosé wines can range from super sweet to delectably dry, available in a wide range of varietals to suit any taste or flavor profile.
Pink Moscato, White Merlot, Rosé Champagne, and White Zinfandel are all sweet options. A blushing glass of sweet pink wine packs in iconic crisp, sweet aromas and flavors that just can't be beaten.
Grenache, Cabernet Sauvignon, Syrah, Mourvèdre, Tavel, Brut Rosé, Pinot Gris, and Pinot Noir rosé are all dry rosé wines, with earthy undertones, hints of grapefruit and watermelon, and higher acidity and minerality.
If you're looking for something in the middle of sweet and dry, Sangiovese, Montepulciano, and Sparkling Rosé might be more your speed.
What are the Best Rosé Wines?
Of course, the "best" rosé is all about what you prefer.
Mai Vino wines are handcrafted and organic, always crafted with intention. As a female-founded winemaker based out of New York on a mission the change the organic wine game.
Enjoying a glass of wine shouldn't be difficult, expensive, or harmful to the environment. We're proud to create some of the best rosé wines in the world.
Enjoying your wine in pouches rather than from a glass bottle reduces wine's carbon footprint by 80% — that's something to toast.
Check out our online wine store to browse our current selection. Our products are also available in over 250 physical retail locations; use our wine store locator to find some Mai Vino near you!
This Rose is mouth-watering. It's dry and has a fantastic muscular acidity that balances its strawberry fruit flavors.
Origin: Navarra, Spain 
Ingredients: 100% Organic Grapes, 100% Indigenous Yeast, 35% Tempranillo, 27% Merlot, 25% Red Garnacha, 7% Syrah, 6% Cabernet, Vegan-Friendly
Visit product page