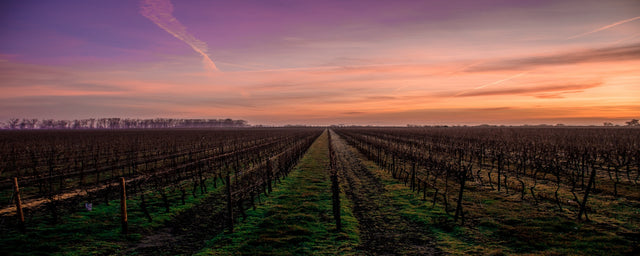 Pinot Noir Wine
At Mai Vino, we hate waste but love wine and believe that having a great glass of wine shouldn't be difficult or expensive.
So we decided to do something about it. We work directly with winemakers and growers from around the world to produce responsibly grown and beautifully balanced single-origin wines.
What is Pinot Noir?
Pinot Noir is the most popular type of red wine in the world, coveted for its rich and smooth flavors; it is a wonderful complement to any wine cellar or cabinet. Let's break down everything you need to know about Pinot Noir wine.
Pinot Noir - translates to black pine cone in French - is a light-to-medium-bodied red wine renowned for its versatility and smoothness.
Pinot Noir wines are fruit-forward, typically highlighting the fruity flavors of red fruits such as red currant, cranberries, red berries, red cherries, and black cherries. Rich aromas of black cherries, chocolate, strawberries, and black tea are common.
It typically boasts an oaky flavor profile while providing violets, roses, and forest floor undertones. Low tannins help support low acidity and less bitterness.
Compared with other red wines (like Merlot), Pinot Noir is light-bodied, stronger, and smoother - though not quite as hefty as a Cabernet Sauvignon.
Where Does Pinot Noir Come From?
Pinot Noir grapes originated in Burgundy, France. It's believed that some of the world's best pinot noir wines come from the Burgundy region; the tending of Burgundian Pinot Noir grapes dates back to the middle ages.
Germany, Australia, New Zealand, Chile, and Argentina are all known to produce high-quality Pinot Noir varietals. Otago, New Zealand Winemakers have also staked their domain in the Pinot Noir "hall of fame."
While in Chile, Mai Vino's Pinot Noir is grown on imported original Burgundian rootstock. What does that mean? During the 19th century, a plant disease wiped out all the vines in Europe. In order to save the wine industry, the European vines were grafted on American rootstock which was resistant to the phylloxera. Chile on the otherhand was not impacted by this disease.
The New World also has a fair stake in the world's Pinot Noir production. California Pinot Noirs — typically hailing from Carneros, the Napa Valley, Santa Barbara's Rita Hills, and Monterey or Sonoma counties — are popular among even the most critical wine enthusiasts. Sonoma Coast Pinot Noir wines from the Russian River Valley are among the most coveted American wines. Oregon's Willamette Valley is also a notable producer, as well.
This type of grape thrives in cool climates. In warmer regions (like Italy), they may be grown near bodies of water. The overall taste of the wine typically reflects its terroir. Most Pinot Noir is finely aged in French oak barrels before release; this gives the wine beautiful vanilla and oak flavors.
Handcrafted Organic Natural Wines With a Green Footprint
Mai Vino wines are handcrafted and organic, always crafted with intention. We're a female-founded winery based out of New York on a mission the change the organic wine game.
Enjoying a glass of great wine shouldn't be difficult, expensive, or harmful to the environment. We're proud to create some of the best wines that are completely free from pesticides and herbicides.
Enjoying your wine in pouches rather than from a glass bottle reduces wine's carbon footprint by 80%.
Check out our online wine store to browse our current selection of the best wines online. From Chardonnay to Pinot Noir, we've got something for everyone. Our products are also available in over 350 physical retail locations; use our wine store locator to find some Mai Vino near you!
This Pinot Noir is light peppery red - that wins you over with its subtleties.  It has notes of earthiness balanced with white pepper and blackberry fruit. Whether you want to serve it at room temperature or chilled - it's a red that is down for whatever. 
Origin: Curicó Valley, Chile

Ingredients: 100% Organic Grapes, 100% Wild Yeast, 100% Pinot Noir, Vegan-Friendly 
Visit product page