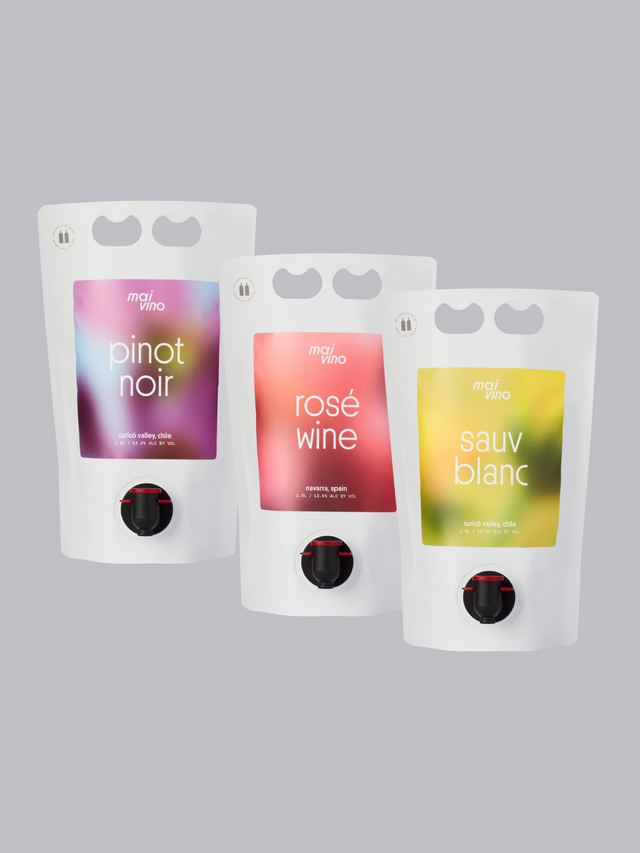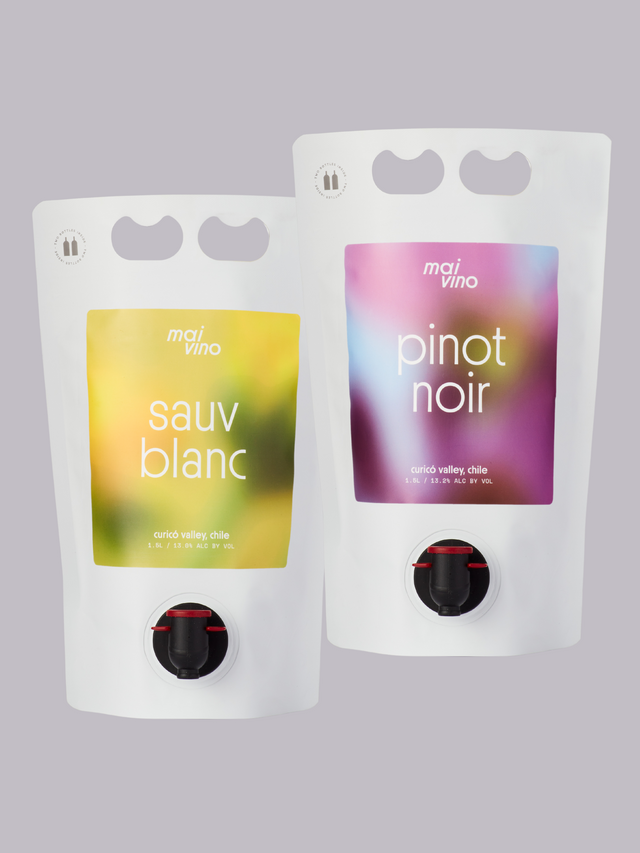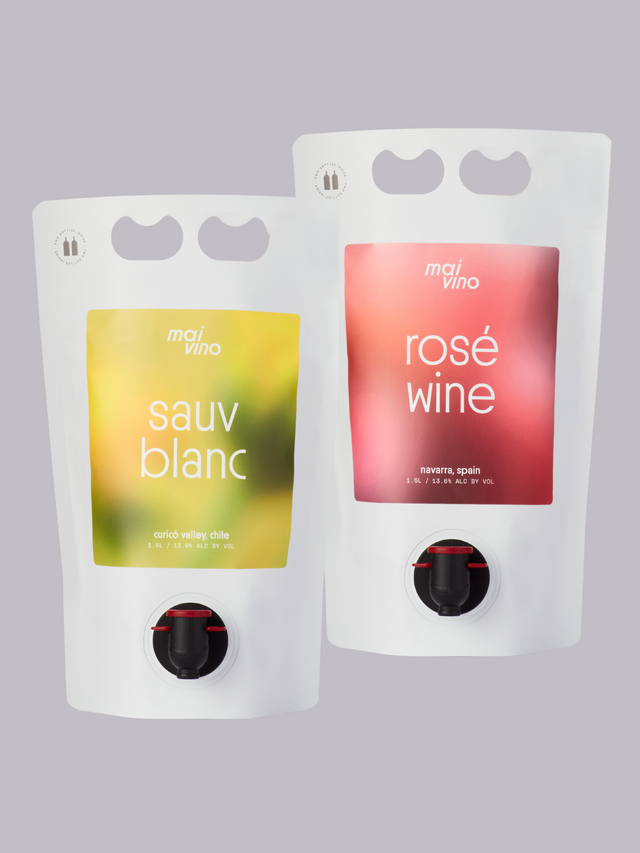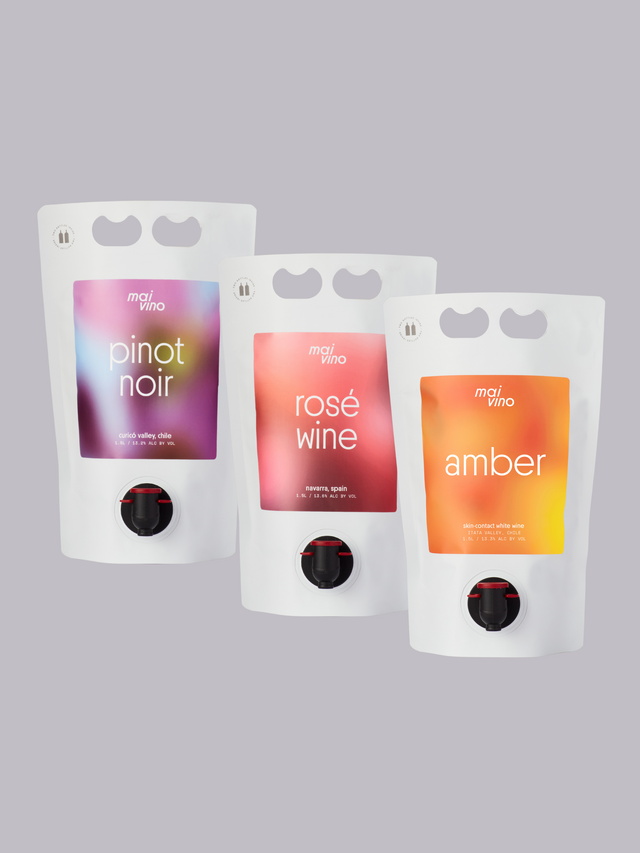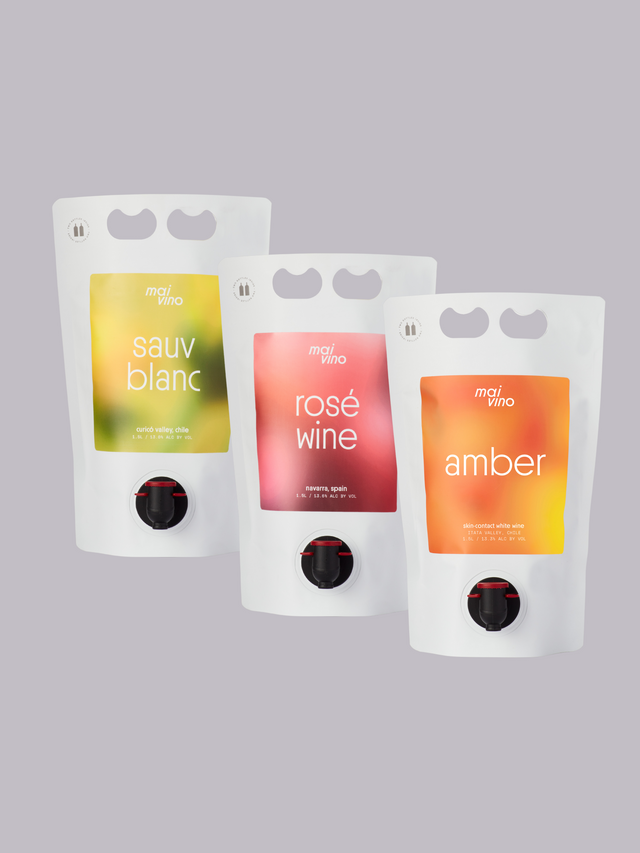 Sauv Blanc
Origin: Curicó Valley, Chile 

Ingredients: 100% Organic Grapes, 100% Indigenous Yeast, 85% Sauvignon Blanc, 15% Riesling, Vegan-Friendly
Flavor profile: A lively tropical fruit with a hint of lime
Alc: 12..6%
Dry: 1/5
(1 = Dry, 5 = Sweet)
Body: 1/5  
(1 = Light Body, 5 = Heavy Body)
Vol: 1.5L (equivalent of 2 bottles or 10 glasses)
Packaging: Airtight spout keeps wine fresh for 30 days after your first glass and reduces wine's carbon footprint by 80%
Rosé
Origin: Navarra, Spain 

Ingredients: 100% Organic Grapes, 100% Indigenous Yeast, 35% Tempranillo, 27% Merlot, 25% Red Garnacha, 7% Syrah, 6% Cabernet, Vegan-Friendly
Flavor profile: A strawberry with a spicy attitude 
Notes: Pairs best with BBQ and friends 
Alc: 13.6%
Dry: 1/5
(1 = Dry, 5 = Sweet)
Body: 2/5
(1 = Light Body, 5 = Heavy Body)
Vol: 1.5L (equivalent of 2 bottles or 10 glasses)
Packaging: Airtight spout keeps wine fresh for 30 days after your first glass and reduces wine's carbon footprint by 80%
Pinot Noir
Origin: Curicó Valley, Chile
Ingredients: 100% Organic Grapes, 100% Indigenous Yeast , 100% Pinot Noir, Vegan-Friendly 
Flavor profile: A vibrant red berry sprinkled with white pepper
Notes: Enjoy with a slight chill 
Alc: 13.2%
Dry: 2/5
(1 = Dry, 5 = Sweet)
Body: 2/5
(1 = Light Body, 5 = Heavy Body)
Vol: 1.5L (equivalent of 2 bottles or 10 glasses)
Packaging: Airtight spout keeps wine fresh for 30 days after your first glass and reduces wine's carbon footprint by 80%
Winemaker's Notes
Flavor Profile
Serving Facts
Always great
Great tasting wine; great value; great convenience. What's not to love. Try it!!
Love how dry and delicious the products are!
Great product!
Ordering was a breeze and the wine was fabulous. This will be maiwine from now on.
Please let me know when the rose comes back. Thanks again for a wonderful bag of wines.
Sophisticated wine with great flavor
Loved trying the new Mai Vino wines in a pouch. The wine is fruit forward and approachable. The packaging is terrific and was perfect for our Memorial Day weekend bbq with friends and family. Highly recommend!
Our wine philosophy
Work with people who care
We respect the land and hands behind the wine and work with those who share our ethos.
Organic farming
Today, only 3% of wine sold in the US is organic. We believe this should be the standard. All our vineyards practice organic farming free of pesticides and herbicides.
Use of Indigeneous Yeast
Our wines are fermented with yeast native to the vineyards which results in a longer fermentation time. Fermentation is when yeast converts sugar in the grape into alcohol. Using indigenous yeast produces more complex and layered tasting notes.
🚫 No pesticides or herbicides

🚫 No mega purple dye

🚫 No sawdust

🚫 No added sugar